Samsung T249 for T-Mobile brings forth entry-level features for $10 on-contract
1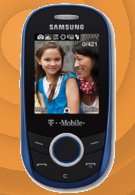 Sliding under the radar, which can primarily be attributed to its extremely entry-level classification, the Samsung T249 is now being offered by T-Mobile.
This vertical slider might not exude some of the most impressive specs, but it should nonetheless prove to be a attractive option for those looking for simplicity. It features your normal keypad,
1.3
-megapixel camera, the ability to shoot videos, speakerphone, Bluetooth, messaging options, and a media player.
This one will barely make a dent in your pockets since it's going for $10 after a mail-in-rebate with your signature on a 2-year agreement. Conversely, you can pick this up for the price of $99.99 if you prefer the no-contract route.
Samsung SGH-T249 Specifications
source:
T-Mobile