Samsung Stratosphere priced at $79 at Staples
6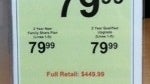 Earlier this week Verizon
officially announced
that the Samsung Stratosphere would be launched by them on Thursday October 13th and would carry a 2-year contract price of $149.99. Now if you're looking for a real deal, one tipster sent us an image showing that Staples will be offering the Stratosphere for a low price of $79.99 with 2-year contract; a $70 savings over Verizon.
For those of you unfamiliar with the Samsung Stratosphere, it will be the first Android-based smartphone with a full QWERTY keyboard to run on Verizon's 4G LTE data network. Features will include a 4" Super AMOLED WVGA display, 1GHz Hummingbird processor, 5MP rear camera & 1.3MP front camera, 480p video recording, Bluetooth 3.0 and will run on Android 2.3 Gingerbread. The Stratosphere will also be the first Verizon smartphone to support dual-band Wi-Fi 802.11 a/b/g/n at 5GHz and 2.4GHz.
Thanks to our tipster!