Samsung Galaxy S dissected on video, earns geek chic points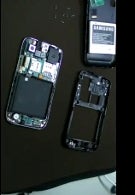 We always appreciate the little joys in life, and so it's a favorite pastime to watch gadgets stripped down to show off some prettily designed innards. Even better when it is the latest Samsung smartphone piece of engineering. Over at the Italian Android HD blog, they received a video of someone who manages to disassemble the Samsung Galaxy S with just a small screwdriver and nine inch nails, then put it back together and pretend warranty was never void.
See for yourself one modern marvel of microengineering to earn geek bragging rights. After all, how many people you know who can say they've seen how the back of a Super AMOLED screen or a 1GHz Hummingbird look like?
Samsung Galaxy S I9000 Specifications
|
Hands-on
source:
Android HDblog
(translated) via
Engadget