Samsung Galaxy Note closer to getting Jelly Bean update, manual posted officially
15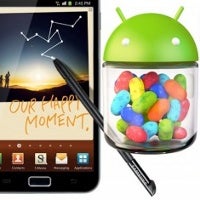 The
5.3
-inch
Samsung Galaxy Note
shocked us when it launched with such a huge screen in 2011, but while the original phablet was a beast at the time, it lacked the polish and smoothness of Android 4.1 Jelly Bean.
Samsung however had promised it will actually bring the update to the device, and is now closer to delivering on its promise. Why? The company has published the manual for Android 4.1 Jelly Bean on its official website and while that doesn't necessarily mean the update is soon coming, it is a good hint at that.
Androird 4.1.2 is expected to arrive on 2011 devices like the Samsung Galaxy Note and the
Samsung Galaxy S II
in January to February.
source:
Samsung
via
SamMobile