Samsung Galaxy Nexus cases start making their way into Verizon stores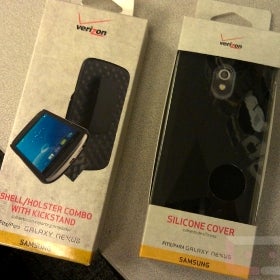 Cases for the long-awaited Galaxy Nexus have started to appear in Verizon's retail stores, indicating, if history is any guidance, an imminent launch of the first handset with Android Ice Cream Sandwich.
The Samsung Galaxy Nexus is most likely
hitting Europe next week on November 17
, and rumors about its US launch
pegged Verizon commencing sales on November 21
, ten days after the DROID RAZR launch tomorrow.
Other rumors suspected
the Galaxy Nexus will appear in the US November 17
, coinciding with the worldwide rollout, or
even the 24th
.
There's no point in guessing, though - if cases are making their way already to Verizon's stores, then it will probably be only a few days before the carrier finally announces an exact date for the launch.
source:
Droid-life