Samsung CDMA/GSM phone available to Verizon Business customers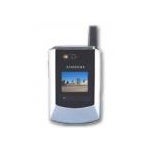 Until now Verizon Wireless customers did not have the option to own a world phone. But that was until yesterday May 25, 2004 when Samsung and Verizon Wireless launched the SCH-A790. The much anticipated GSM/CDMA global phone is for now only available for business to business customers and is planed to be offered to consumers later this summer. The phone is targeted generally toward business travelers, which will be able to use the phone around the globe and be reached at the same number. The SCH-A790 is the first phone to use both GSM and CDMA networks and features large internal screen, camera and web browsing.
When used in CDMA mode, the phone supports MMS, GPS emergency location and Web browsing. Those features are not available in GSM mode.

Full Samsung SCH-A790 features and specifications are available here.