SMT 5600 (SPV C500) Smartphone is now available to Cingular Wireless customers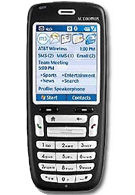 The Audiovox SMT 5600 is currently the smallest Microsoft Windows Mobile smartphone. Running Microsoft OS, it allows the user to use familiar applications such as Pocket Outlook, Windows Media Player, Pocket Internet Explorer and MSN Messenger. Its main appeal is to the business user, because it eliminates the need to carry both PDA and wireless phone.
The STM 5600 was originally offered from AT&T Wireless, but after the merger with Cingular it was discontinued. Now Cingular Wireless is offering it at the price of $199.99 with a two-year voice and data service contact.
The main features of the phone are:
176 x 220 65k TFT display
Bluetooth
VGA camera
200 mhz processor
HTML browser
Source: UTStarcom.com