Rumors: HP hw6500/6700 delayed, other two devices coming up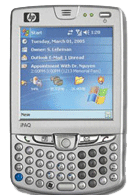 There have been rumors that the release of HP hw65xx / 67xx will be delayed until November and that both series will be running Windows Mobile 5.0 . It is also known that hw65xx will feature WiFi, Bluetooth, GPS and the first 240 x 240 reduced size display.
While people are waiting for hw6500/6700, it is possible HP to launch two other devices - the hp6325 and a MS-based smartphone. The hp6325 would be similar to the hp6315 but it would be available to Cingular customers.
Source: Pocket PC Thoughts