Reminder: "Let's Talk iPhone" event today!
53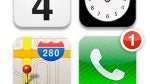 There are probably very few of you who are not aware that today's the day for every tech junkie out there, as we'll be witnessing the official announcement of the next-gen iPhone/s. But for those few calendar-impaired individuals, we've taken the liberty of posting a reminder!
The so-called
"Let's Talk iPhone" event
will take place today, starting at
10AM PST | 12PM CST | 1PM EST | 6PM GMT
.
Whether we'll be seeing an
all-new iPhone 5, a facelifted iPhone 4S, or both
... we don't know, but one thing is certain - it will be very, very interesting. So, be sure to stay tuned to PhoneArena, as we'll be covering all that is going on at the event, and more!