Refurbished iPad mini now available on the Apple Store, starting from $299
17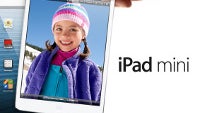 The 8-inch iPad mini is said to have become so popular that Apple is allegedly revising its 2013 tablet shipments boosting production of the mini and slashing production of the 9.7-inch iPad, and good news is that now you can buy a refurbished iPad mini for $299 on the Apple Store. This is the basic 16GB Wi-Fi-only model.
The same iPad mini sells for $329 so you are saving 30 bucks if you get it refurbished. There are other versions of the iPad mini including ones with 4G LTE radio, so for all of the refurbished Apple tablets hit the source link below.
The Apple refurb devices are virtually the same as new and they ship with the same 1 year AppleCare warranty.
source:
Apple Store