Real Soccer 2013 now available for download in the Google Play Store
4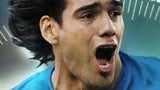 About a week after it popped up in the App Store, Gameloft's Real Soccer 2013 is now available for Android devices as well. Installing the game is free, but there are in-app purchases that you can use to improve your gaming experience.
The main improvements that the 2013 edition of Real Soccer brings include better graphics and animations, more real player names and portraits thanks to a FIFPro license, as well as new game modes.
Sadly, Real Soccer 2013 doesn't introduce multiplayer matches, which is a huge disappointment. Meanwhile, EA Sports has added multiplayer game mode in its FIFA 13, which is currently available for iOS only, but should arrive at the Play Store... some day.
Anyways, if you're OK with playing against the computer (phone?), just go ahead and
download Real Soccer 2013 now
!