Real Racing 2 HD is just $1.99 today - first-come, first-served!
23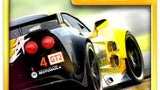 Don't you just love these specials? Yesterday you got this app at a discounted price, tomorrow you'll get that one, but today... oh, today you're getting Real Racing 2 HD - one of the very best racing games available on a mobile platform.
For today only, EA is discounting Real Racing 2 HD by 70%, which means you can now get it for just $1.99. The game looks incredibly well and can make you proud of your mobile device. Not only that, but it can also do local or online multiplayer races, for up to 16 players!
Real Racing 2 HD is the tablet version of Real Racing 2, and is currently available for iPad only.
Download Real Racing 2 HD
!
via:
PocketGamer