RIM's first ad for the BlackBerry PlayBook hits the airwaves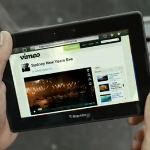 With the Pretenders'
Brass in Pocket
playing in the background, the BlackBerry PlayBook came out of a jacket pocket in its first commercial played over the airwaves. The spot plays up to the things that the tablet does well like its responsiveness, web browsing, playing Flash video, and viewing anything including eBooks over that clear and crisp 7 inch display.
When
RIM introduced the BlackBerry PlayBook
, it was called the first "professional tablet". Nothing we saw in the ad would have pointed to this tablet having been made for the enterprise user who wants a tablet for more business-like applications. At least RIM didn't show someone playing Angry Birds.
Still, it's only the first ad for the device, and the focus was on the how portable and powerful the tablet is; perhaps in the next one we will see how the pinstriped set uses their BlackBerry PlayBook.
source:
Crackberry