RIM will release Widget SDK for developers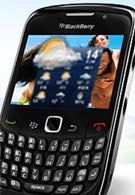 RIM has announced the future release of an SDK (Software Development Kit) designed for all developers of applications for the BlackBerry platform that will allow them to create web-based widgets. The BlackBerry browser engine will take care about rendering, while developers will be able to take advantage of the functions and services delivered by the operating system. RIM goes on saying that widgets will be permitted to read device files and utilize the manufacturer´s proprietary push technology.
More details on BlackBerry Widget SDK will become known at the upcoming conference for RIM developers that takes place 9-12 November in San Francisco.
source:
Marketwire