RIM edition of Monopoly board game gives you Free Parking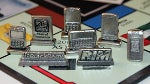 When a company wants to thank some valued employees, or wants to recognize some important vendors, it usually presents them with a luicite paperweight, or a pen and pencil set. It looks like someone at RIM had a brilliant idea and commissioned a RIM edition of the Monopoly board game.
No, this is not an app but is the actual board game with tokens in the shape of BlackBerry handsets and featuring Innovation and Connectivity cards. Considering that much of the game uses industry jargon (WES fees due - pay $50!), we would imagine that you will not find this at your local toy store. Properties are based on different BlackBerry markets, but other than the RIM specific changes, the game plays just like regular Monopoly.
source:
Crackberry