Quick-draw sleeve for Apple iPhone is straight out of Taxi Driver
11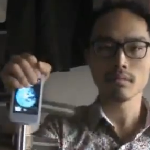 Taxi Driver
, you're familiar with the
quick-draw apparatus
used by Robert De Niro. One obviously bored Japanese man decided to build a similar device for his Apple iPhone. The quick-draw sleeve enables this guy to answer the phone quickly and while performing a number of stunts.
We're pretty certain that Apple has yet to patent something like this, so as far as Cupertino is concerned, this guy is in the clear. In fact, what this guy should have done is hopped a flight to Las Vegas and registered at CES as a vendor to see if he could have interested one of the more off beat accessory makers into producing a line of quick-draw Apple iPhone sleeves. Well, there is always
Shark Tank
. Too bad
Mark Cuban doesn't own an Apple iPhone 5 anymore
.
source:
YouTube
,
TDW
via
Gizmodo