Qualcomm makes an awesome video of the HTC Sensation 4G powered by creepy crawlers
15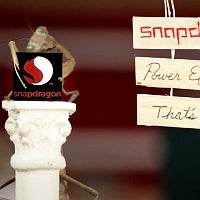 To demonstrate the power-sipping nature of the third generation Snapdragon chipsets S3, as the one found in the
HTC Sensation 4G
, Qualcomm has hired some bugs to do their moves, while at the same time generating electricity to charge the handset.
Among spiders, praying mantises, scorpions and other assorted buggery, the dual-core 1.2GHz chipset gets running by the frantic movements in the so-called "
Bug Circus Generator
" and there is even energy left so the final result is a full battery charge to boot.
The footage is, of course, scripted with hours of preparation behind it, but it has great entertainment value for people who don't know much about mobile chipsets. For the S4 quad-core silicon we expect Qualcomm to employ amoebae or some other one-celled organisms.
source:
Qualcomm
(YouTube)