Pwnage Tool for iPhone 3.0 OS is released, but is minus YouTube app
This article contains unofficial information.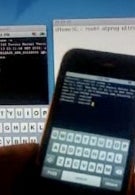 The iPhone Dev-Team has released portions of the Pwnage Tool to jailbreak the new iPhone 3.0 OS. Because this is not Ultrasn0w, you won't be able to use your handset on T-Mobile or any other carrier for the time being. Also, it has yet to be tested on the 3G S as far as we can tell, and it is probably not a good idea to be the first one to try it. If you are using yellowsn0w, do not use the jailbreak right now. Ultrasn0w will be released at some time in the future.
Because the YouTube client was changed for the new OS with comments and ratings now added for the iPhone user, it seems that something in the updated app has prevented the jailbroken OS from being able to access YouTube videos.
source:
iPhone Dev-Team (3.0 OS)
,
iSmashPhone (YouTube not working)
via
EngadgetMobile