Punch Quest arrives on Android's Google Play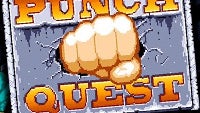 Jab, uppercut, jab, jab, jab!
Punch Quest
is one of the most addictive iOS games filled with fist pumping adrenaline and now it's finally launching on Android's Google Play.
Punch Quest is a side-scrolling action game where you punch your way through dungeons filled with monsters. Controls are simple - taps with your left and right thumbs, and variety in the gameplay comes with new monsters, branching dungeons and riding dragons shooting lasers out of their mouth. You can also unlock new supermoves and abilities, and do quests.
It's quite the game for just a buck, so make sure to check it out right below.