Promo videos for the new EarPods and the rehashed iPod family appear - "it's impossible, so we tried it"
6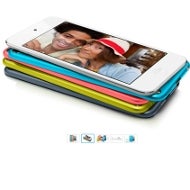 Apple just outed the promo videos for its EarPod buds and the new iPods, and they are full to the gills with glitzy footage, revealing every new improvement of Apple's in-ear headphones that will be coming packed with its gadgets from now on, as well as the growing up of the venerable iPod family.
The EarPods now direct the sound directly towards your ear drum, instead of hitting the wall of your ear, and are designed to fit all the varieties of ear shapes. As for the new iPod family, Apple made a colorful video that boasts the new iPod nano with a 2.5" touchscreen, the new iPod touch with the 4" screen of the iPhone 5, and the smallish iPod Shuffle, all dancing around in a whirlwind of shapes and hues.