Project for the Motorola XOOM has begun, will last through the weekend
7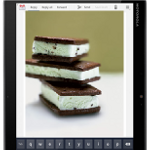 email being sent out for owners of the Wi-Fi only version of the Motorola XOOM
about an unnamed project for the tablet. Because this variant of the Motorola XOOM is a "Google Experience Device", Motorola doesn't really know the timing involved, but did send out an email to those who signed up to alert them that the
project would start this evening
.
The email went on to add that because the project had been delayed, it will continue
running over the weekend
. Owners of the Wi-Fi only version of the Motorola XOOM are hoping that the project this time has something to do with Android 4.0. Those who agreed to take part in this process have signed a confidentiality letter, which means we might not get any answers about what this is all about until Motorola spills the beans.
source:
AndroidCentral