Powering one single color can double your Android's battery life
This article contains unofficial information.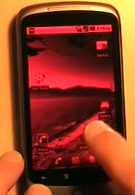 Powering up just one color channel on your Android device's organic LED display can help save your battery life. Android engineer Jeff Sharkey was able to hack his phone to allow for one color channel to be powered at a time. Using an industrial power meter, he was able to determine which color saved the most battery power. It turns out, red is the color that helps you extend your battery life the most. He said, "Filtering to show only red pixels only requires 35% of the original baseline OLED panel current, on average. Adding back the baseline current, the best case overall is about 42% of the original system current, effectively doubling the battery life. Also, showing only red pixels doubles as an awesome night vision mode, perfect for astronomy." For more information on Jeff's experiment, check out the source link.
source:
JeffSharkey'sBlog