Postcard points to November 9th launch for Motorola Droid?
12

This article has been updated.
Yesterday we
reported
that the Droid's countdown clock on its' web site is set to hit zero on October 28th. No one knew if that meant the device would be launched on that date, or merely introduced to the public. We have a better idea now that postcards from Motorola have arrived at potential Droid buyer's homes with the date 11.09 in huge letters. This would seem to indicate that the device that does will be launched on November 9th (in case it doesn't mean November 2009, of course) after being introduced to the world on October 28th.
Motorola Droid A855 Preliminary Specifications
source:
Gearlog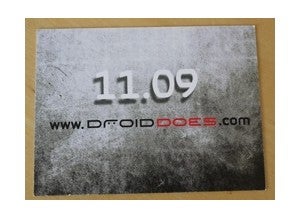 Recommended Stories