Popular iOS game Whale Trail comes to Android Market
1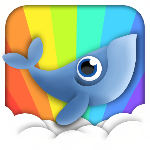 Like many games before it, Whale Trail made a name for itself in the iTunes App Store and has now made the move to the Android Market. Many have compared the game to something like LocoRoco or Katamari Damacy because of its bright cartoony graphics and casually addictive gameplay.
The developer, ustwo, had said that the game was complete for Android back in the middle of December, but for some unknown reason has just made its way to the Market. The game has done well for itself with around 150,000 downloads on iOS, and an extremely high average rating. It looks like the team has brought that same quality to Android as well, as early reviews are quite positive.
And, best of all, the game is just 99 cents in the
Android Market
for a limited time, although there's no word on what the price will be afterwards.