Poll: do you like the new LG V20?
34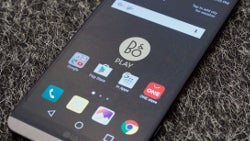 LG has just announced its new phablet, and it looks pretty awesome. Fully made of metal, a lot of attention to the video and audio recording capabilities, upgraded ticker display, and, of course, cutting-edge hardware in the form of a Snapdragon 820 SoC and 4 GB of LPDDR4 RAM. It's certainly a heavy-hitter that will gain its fair share of devout followers.
But is it enough to sway consumers from other top-tier phablet devices? Despite its issues at launch, and assuming that Samsung fixes up its battery issues for good, the
Note 7
is still a pretty awesome device, and Apple's
iPhone 7 Plus
is just hours away from being announced. Does the
V20
make you consider jumping over to the LG side?