Pocket Titans turns into a free-to-play title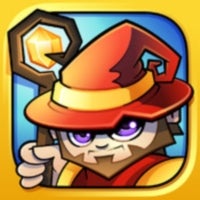 Noisy Orc Games's Pocket Titans, an RPG puzzle adventure game for iOS, has become a free-to-play title. The developer felt that the initial response to the title (originally available at $0.99) has surpassed expectations and making the title free will attract many new players to its online multiplayer community.
Pocket Titans offers 8 playable characters, 30 enemy types, 5 bosses, upgrade-able weapons and armor, and of course, multiplayer battles. The game is compatible with iPads, iPhones and iPod Touch with iOS version 6.0 or later. Recently, the title was updated to version 1.10, which adds a challenge mode with five new quests, arcade scoring and individual leaderbords, as well as improvements and bug-fixes for multiplayer battles.
Download (free):
iOS
Pocket Titans screenshots
source:
148apps