Play Pacman, win iPhone
15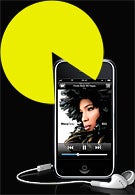 PacMan is an arcade game that first appeared in the end of 1979, and become widely popular in the States in the 80's. The gameplay presents a maze full of dots, which your character has to eat, chased by four "ghosts" (enemy characters), which try to stop him.
Visit
CellWholesale for the game
and try to win the iPhone.