Pictures develop of the Motorola Sholes/Droid
This article contains unofficial information.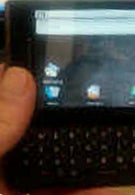 report
we brought you that mentioned a release date. And while we really would like to see Motorola and Big Red come to a final decision on the name, or at least let us know the name they have decided on, we happen to have a couple of low resolution snap shots of the handset. BGR was able to obtain the pictures from a tipster and a second source told them that the ROM on the phone is moving at jackrabbit speeds with a new build out just about everyday. A decision on a final build will have to be made in the not too distant future if there is going to be a release this month.
Motorola Sholes Preliminary Specifications
source:
BGR