Photos of HTC Espresso Rosie develop
This article contains unofficial information.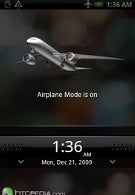 Members of HTCPedia's dev team were able to take some pictures of a HTC Espresso test dump running on the HTC Hero , showing off the Rosie UI. As we previously
reported
, the Espresso is similar to the GSM edition of the Hero except with a landscape sliding QWERTY keyboard. Have you ever seen an 'Airplane Mode' page look so good? Some of the early opinion on HTCPedia's forum is that the design too closely resembles that of the iPhone. What do you think?
source:
HTCPedia