Phone chargers get standard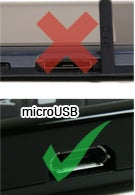 As part of Open Mobile Terminal Platform (OMTP) forum, major phone manufacturers including Nokia, Motorola, Samsung, LG and Sony Ericsson agreed on using microUSB connector as their charging port in future phones. Logically, as it is USB it will also replace the data port used on previous phones. This will lead to universal chargers and data cables that will be usable with phones from any of the brands, instead of proprietary ones.
The microUSB comes as an upgrade to the miniUSB and as it is smaller in size is more suitable for the slim phones. We've already seen it in Motorola and Nokia devices and as it can also be used for music output, there will also be universal music accessories, suitable for large variety of phones from various brands.
source:
News.com
via
Gizmodo