Pearl available with Verizon
11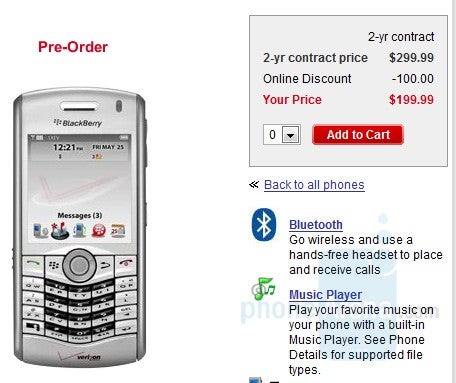 *Update:*
The pre-ordering for the Pearl has been removed.You can now Order the Pearl from the Verizon web site and have it delivered as early as Monday Nov 5th.It will be available for in-store purchases on Nov 8th.
---
The
BlackBerry Pearl 8130
smartphone was announced as one of the four "next" phones for the carrier and is the second one available for purchase (after the Juke), coming at $199 with two-year contract after rebate.
The CDMA variant of the Pearl is very similar to the GSM one which is available with both AT&T and T-Mobile but slightly improves its multimedia functionality with video recording and 3.5mm stereo jack.
If our information is right, it will be available in January also in Pink, but this is still not officially announced.
Thanks Omie and Zechariah!