Parody: Samsung Galaxy suit unboxing video
11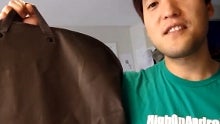 When you have a big industrial conglomerate like Samsung, some departmental clashes are bound to occur, and hilarity to ensue.
It turns out that what seems like Samsung's retail branch might have had a Galaxy clothing line for a few decades already, way before the Galaxy line of handsets have appeared.
Someone took the liberty to get fitted for a custom Samsung Galaxy suit in Korea, and lived to tell the tale of the octa-core Exynos powered piece of clothing, with dual front and back spy cameras.
Next up - a Galaxy cargo ship, as Samsung tends to make those too, and life-sized at that.