Paper Shuffle for Windows Phone 8 rotates lockscreen wallpapers of your choosing
6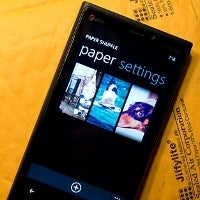 For $0.99, the app lets you pick a set of photos in your gallery, and rotates them on your locked screen at predefined intervals, even hourly, if you are so inclined.
The app autocenters the images for you, and we wish there was a manual option for that. It also doesn't let you select folders, but we hope these will be coming with subsequent updates.
Indeed the developer says at their Reddit thread that local album picks are coming, as well as manual cropping and more rotate frequencies like 2, 6 and 12 hours. The update has been submitted, and should hit your handset in a few days. Now go load up on those "Beach Babes" sets.