Pantech PN-218 for Alltel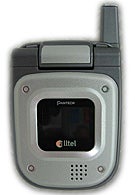 The FCC just approved just another Pantech phone, expected to hit Alltel. The PN-218 is actually identical to the CDM-180 which is available from Verizon and has the same tiny square clamshell body with external antenna and just lightly changed keypad layout. Its main (internal) display has landscape 160x128 pixels resolution and displays up to 262k colors, while the external one is also color unit with 65k colors. The camera of the device is situated on its back and has VGA resolution and flash.
We expect the PN-218, measuring 3 x 2.15 x 0.95 in, to launch with Alltel later this year, with price below the $50, as the CDM-180 is currently available for $20 after discounts.
Pantech PN-218
Source:
FCC