Panasonic Introduces New Phones At CeBIT 2003
3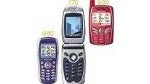 With the introduction of MMS and camera-equipped mobile phones, GSM continues to evolve from voice and text-based communication into a new breed of visual communication tools.
X70 is a World GSM/GPRS compatible phone. It sports Bluetooth support, 65,535 color TFT LCD screen, built-in camera, MMS, and Java. Available this fall.
G60 is a Dual-band GSM/GPRS with a 4096 color LCD, MMS, camera (acessory), stylish clear back. It will be available both for Americas and Europe.
G50 is a super small World phone with GPRS support. It sports a 4096 LCD screen, EMS, WAP 2.0 mini-browser and 40-instrument polyphonic ingtones. It will hit the stores this summer.
The Panasonic booth also introduces new models compatible with FOMA, the 3rd generation service that has already been launched in Japan, and models compatible with the i-mode service in Japan.