Palm finally announces Treo 750 for Cingular
0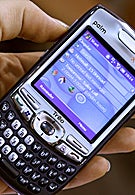 After it has been available for months now in Europe, Palm has finally officially announed the future availability of its
Treo 750 with Cingular
. The Treo 750 is currently Palm's most advanced smartphone and packs high-speed UMTS 3G data. The candybar with internal antenna features QWERTY keyboard, and runs on Windows Mobile OS for Pocket PC Phones and 300MHz Samsung processor,
1.3
-megapixel camera and 240x240 pixels display.
We expect it to be available for orders in the upcoming weeks, as it's already scored FCC approval. Cingular currently offers its smaller brother the Treo 680.