Palm Treo 755p announced for Sprint PCS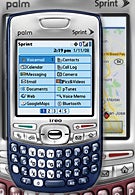 The Treo 755p is a slightly redesigned version of the 700p that Sprint PCS is currently offering on the market. The new one comes with slimmer profile and integrated antenna for sleeker look and smaller dimensions. The 755p is the first Treo device to offer Google Maps for mobile and built-in Microsoft Direct Push Technology email support.
The Treo 755p doesn't improve on the display (320x320, 65k colors) or the camera (1.3-megapixel) and keeps the functionality of the 700p.
Palm Treo 755p Specifications.
It will be available with Sprint PCS mid-May for $280 after rebates and with 2-year contract