Palm Treo 700p finally got FCC approval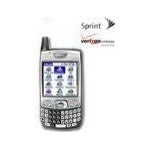 Monday, Palm officially announced the Treo 700p, months after the initial rumors about it started to circulate. It seems that it will launch with both Sprint and Verizon, but there are still no clear dates for launch. And although some people claimed that "it will come really soon" until now it was not possible, as it was not approved by the FCC. Now this is all history because the FCC just approved the 700p, so it may launch any moment now on either of the largest CDMA carries in the US.
The 700p is powered by 312MHz processor, same as the one in 700w, but slaps a display with higher resolution – 320x320 instead of the 240x240 unit, used in the 700w. Otherwise the 700p and the 700w are functionally the same, with identical design and equal dimensions and weight.
Source:
FCC