Palm Pre and Pixi hit server logs wearing AT&T colors, running webOS 1.3.8
This article contains unofficial information.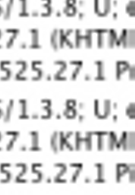 As we previously
reported
, two webOS devices are expected to hit AT&T by the first half of the year. Now let's play Cellphone Trivia. How many webOS phones do you know? And how many are supposed to go to AT&T? Great. You're a winner. To add to the math, pre central took a look at the server logs offered by DSL Reports and found AT&T branded versions of the Pre and Pixi running webOS
1.3
.8 on the internet. This doesn't guarantee that the carrier's two webOS devices will be the Pre and Pixi, but the math sure adds up. While Verizon plans on releasing its version of the two phones with webOS 1.4, it remains to be seen if AT&T will at least match Big Red's OS build if it indeed launches a Pre and Pixi of its own.
Palm Pre Specifications
|
Review
Palm Pixi Specifications
|
Review
source:
precentral