Palm Centro officially announced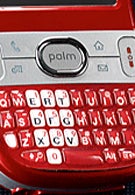 Sprint launched a dedicated site to Palm Centro, which will be released after more than 2 weeks on the 14th of October. The smallest Palm device will be available in either Black or Red color version, for $99.99 after $100 mail-in rebate with 2-year contract and purchase of $25 data plan or higher, which is one way or another required in order to take advantage of the functionality of the Garnet-powered smartphone with QVGA landscape display and full QWERTY.
**UPDATE
Sprint officially announced the device today. For their press release go
here.
source:
MoreYours
via
EngadgetMobile