Ouch! Meizu sends OnePlus a box of its own medicine
35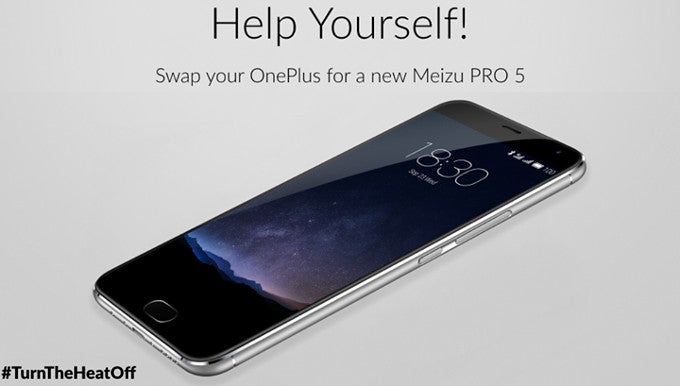 About a week ago, OnePlus started the
#TakeTheEdgeOff campaign
, offering users to swap their Samsung
Galaxy S6
,
Galaxy S6 edge
,
S6 edge+
, or
Note5
for a brand-new OnePlus handset. The company would forward all of the donated Samsung phones to the Hope Phones organization and send a brand-new OnePlus 2 — the "2016 flagship killer" — to all the benefactors. Kind of an obnoxious offer, wouldn't you say?
Well, Meizu took note of that and, for one reason or another, decided to take what looks like a potshot at OnePlus with a very similar, counter-campaign. See, the
Meizu PRO 5
is about to hit the market – possibly in
November
– and, naturally, the manufacturer will try to generate some noise around the new top-shelf handset. What's the first step? Offer owners of the OnePlus 2 to trade in their handset for the new Meizu PRO 5!
The sting doesn't just end there, however. While OnePlus' campaign goes under the slogan #TakeTheEdgeOff, Meizu's take is named #TurnTheHeatOff. This is most probably a jab at the Snapdragon 810 that hums under the OnePlus 2's hood, as the SoC has been often criticized over various overheating and throttling reports. In contrast, the Meizu PRO 5 is equipped with Samsung's pride – the Exynos 7420 – the same processor that powers the Galaxy S6, S6 edge, S6 edge+, and Note5.
The Meizu PRO 5 will reportedly come in two variants – one with 3 GB of RAM and 32 GB of internal storage, and the second one being a true powerhouse, rocking the aforementioned octa-core SoC, 4 GB of RAM, a 3,050 mAh battery, a 21 MP / 5 MP camera combo, and a 5.7" display with a 1080 x 1920 pixel resolution. The promotion seems to be for a limited number of units only, though we've no idea on how many lucky winners there will be, which variant they will get, nor when they will be receiving their brand-new Meizu phones. As for availability – the Meizu PRO 5 is expected to launch on the 12th of November, priced around $439 for the 3 GB model and $486 for the 4 GB one.