Orange also interested in acquiring T-Mobile UK?
This article contains unofficial information.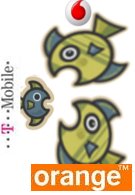 With speculations circulating around yesterday about a possible bid attempt for T-Mobile UK, Orange may be also in the hunt for a possible takeover. Reports swirling around claims that Orange is engaged in talks with Deutsche Telekom for their UK network operation. Apparently there was no official confirmation from Orange representatives about negotiations between the two and reiterated that it is uninterested. But new allegations claim that negotiations over a joint-venture with T-Mobile UK is further down the line. The balance of power could be at stake with Vodafone accounting for 25 percent market share, Orange at 21 percent, and T-Mobile at 15 percent. If any deals are to go down, UK and European regulators will watch over it like a hawk.
source:
mobile news