Opera Mini to debut on Qualcomm's Brew MP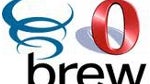 Good news for the good folks who are still using Brew MP - Opera and Qualcomm have signed an agreement that will see the widespread adoption of Opera Mini on future Brew MP handsets.
This sounds like a win-win situation to us - Opera Mini is famous for its cost-reducing compression options, and affordable phones based on Brew will be able to taste an almost smartphone-grade browser; on the other hand, this is a great news for Opera, as its Mini browser will be present on one more platform.
Opera Mini has proved to be very popular among phone owners - according to the company, the mobile browser has 90.4 million users worldwide.
It's yet unknown when this agreement will come into effect.
source: Opera