One week after Android tablets, Wunderlist 2 comes to the iPad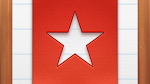 Wunderlist is one of the better to-do & task manager apps available on mobile (as long as you aren't like Matias Duarte and are disgusted by skeuomorphism), and it recently got a major version bump on tablets. Last week, Wunderlist 2 added support for Android tablets, and today the update finally came to the iPad as well.
Unfortunately, the update doesn't add too many real features. On the Android side, you can now share lists via the Share Menu, save links, text and emails to Wunderlist, and hide your completed tasks. The iOS side doesn't have a Share menu, so all it gets is the ability to e-mail lists from the app. But, the big news is simply that the app is now fully optimized on both platforms for tablets.