One gamepad to rule them all: Android, Wii and Wii U
8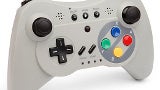 And here's a versatile Bluetooth controller for that tireless gamer within you. The unique thing about this old-school gamepad, called 'Pro Controller U', is that it's designed to work with the Wii, Wii U and... Android! That's right, not only will you be able to use it with your console, but with your smartphone and/or tablet games as well.
The Pro Controller U has it all - a d-pad, action buttons, dual analog joysticks, trigger buttons and can even function as either a Wiimote or a Wii Classic Controller. Android users should note that they have to install the Wii Remote app and then pair the controller with their device via Bluetooth.
You can purchase the Pro Controller U at its retail price of $39.99 through the source link below, or find it cheaper somewhere else.
source:
ThinkGeek
via
Gizmodo