On-screen keyboard for the G1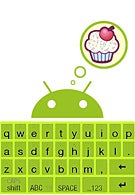 Lately, news about Android are actually flooding us.
Free navigation applications
,
optimized Google search
,
new developers with great promises
,
a long list of updates
, called "cupcakes" and what not. The last one includes an on-screen keyboard, which is long expected by G1 users. With it, it'll be no longer necessary to open the device every time when you need to type in a short message.
You can see what the keypad is going to eventually look like from the video below. As a whole, it reminds us of the one from HTC's recent models. Similarly, it'll most probably lack a landscape layout.
via:
Engadget