Oh Canada! Rogers getting better Storm and Flip Pearl!
This article contains unofficial information.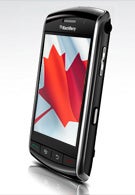 Our neighbors to the north, Rogers, will soon be making a handset presentation and a leaked document shows that the Canadian cell company will be offering BlackBerry 9520 which is a model of the Storm with Wi-Fi and North American HSPA.
The other big news is model 8200. This is a 3G Pearl Flip with Wi-Fi, GPS and a front-facing camera for video calling.
It sounds like some U.S. cellphone fanatics will be trekking up to Canada next year when these two phones are expected to be released.
source:
CrackBerry