Now you can get an early prototype iPhone 4 on eBay
12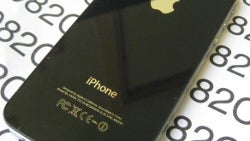 If you've ever wondered how a possiblyearly build of the iPhone 4 looks like, despite not being able toactivate it or operate it in any way, now you can get yours on eBayfor over $1,700.
The device carries a product number DF1692, a uniqueidentification given to each Apple employee, so you might also expectto get contacted by Apple, but for the time being the auction isalive and well.
Visually, the prototype iPhone 4 mimicsthe looks of the final device with the only notable difference beingthe lack of "+" and "-" signs on the volume buttons. Noactivation also means that the amount of memory on the handset is aguessing game. The seller, Jtmaxo, claims to be a licensed phonerepairmen, registered on eBay since March 2004. Feel free to placeyour bids at the source link below, but don't get your hopes too high– the price goes up quickly.
source: eBay via Thisismynext