Nothing says it is the holiday season like free themed QWERTYs from SwiftKey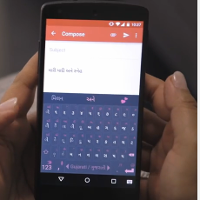 Third-party virtual QWERTY provider SwiftKey is offering a holiday "gift" to its iOS and Android users in the form of special holiday themes. There is also an update to the iOS version of the app which includes some bug fixes and new keyboard shortcuts that can be imported from iOS settings. A new in-app "help" section also is available for iOS users, and support has been added for those tagging people in Google+ and Facebook.
The iOS and Android versions of SwiftKey have each received a set of free holiday-themed keyboards. A Hannukah themed QWERTY that was pushed out earlier this week includes a menorah and a dreidel.
SwiftKey also has a holiday message for you, which you can view by clicking on the video below.
source: SwiftKey