Nokia shuts down subscription-based Comes With Music on phones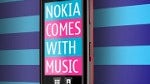 Nokia is shutting down itssubscriptions to unlimited music known as Comes With Music or Ovi Music Unlimited on mostmarkets citing a lack of traction. A total of 27 markets willsoon be left without the service, while the only markets that willcontinue offering the 12-month subscription are China(where it was launched in April 2010), India and Indonesia.
The service was first launched inBritain in 2008, but never really took off. Some of the reasons mightinclude the run-of-the-mill phones tied to the service and lack ofcarrier support. Nokia will still offer music as part of its OviMusic effort. A spokesman for the company noted that "the marketsclearly want a DRM-free music service." Unlike the Comes WithMusic subscription service, Ovi Music is exactly that – a DRM-freealternative. So much for one of the early iTunes competitors, butthat wasn't much of a surprise, was it?